If you are having problems calling into Board meeting, call the Clerk's Office at 308-946-2881 and ask for the Supervisor's Room.
Merrick County Board of Supervisors voted unanimously to close all county buildings effective immediately subject to arrangements being made for essential court business and notices being posted accordingly.
All county offices will remain available for appointments as needed and scheduled in advance.
All phone numbers and emails for the County Offices are located on this website on our Contacts page.
Open Meetings Act Effective 9/1/2019
Nebraskans: Be Alert to Disaster-Related
Scams and Fraud
March 12, 2019 - Special Election Results
We invite you to browse our web site to learn about our various County offices and the services Merrick County, Nebraska offers its citizens. Courthouse hours are from 8:00 - 5:00, Monday - Friday except on holidays.
This web site contains information about County programs, services, departments and offices, as well as helpful information on commonly asked questions. We encourage you to use this site frequently to access agendas and minutes of the Board of County Supervisors.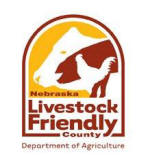 All Merrick County citizens can receive free library membership cards to all county libraries by simply contacting:

Renew Your Vehicle Online