The Merrick County Board of Supervisors voted today to reopen the Courthouse to the public on June 15, 2020 with COVID-19 protections in place. The Board, officials and staff appreciate and thank the public for its patience in conducting business by alternative means during the pandemic and ask for continued cooperation to ensure the health and safety of our employees and community.
Signs will be posted at all entrances and on each floor as follows:

Do Not Enter if you have any symptoms of COVID-19 or have tested positive or been in direct contact with someone who has tested positive within the last 14 days; we are happy to accommodate you by phone or email or use of the drop box at the front door.
You are entering the building at your own risk; the County will not be responsible for public exposure to COVID-19 in this building.
The public is strongly encouraged to bring a mask and wear a mask at all times when inside this building. Masks will be made available upon request.
The public must adhere to social distancing directives and pay close attention to the markings on the floor as a guide to stay 6 foot apart.

The County will provide hand sanitizer for public use at the building entrance and on each floor.
To accommodate a high number of patrons expected on Fridays for DMV services, there will be a limit of the number of patrons allowed in the Courthouse at one time on Fridays through July 10, 2020 to ten (10) people, excluding parties present for Court proceedings, and to post county employees at the courthouse entrance on those dates to monitor entry and encourage the use of masks and social distancing.
All phone numbers and emails for the County Offices are located on this website on our Contacts page.
2021 Open Meetings Act Effective 4/22/2021
We invite you to browse our web site to learn about our various County offices and the services Merrick County, Nebraska offers its citizens. Courthouse hours are from 8:00 - 5:00, Monday - Friday except on holidays.
This web site contains information about County programs, services, departments and offices, as well as helpful information on commonly asked questions. We encourage you to use this site frequently to access agendas and minutes of the Board of County Supervisors.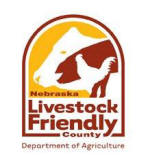 All Merrick County citizens can receive free library membership cards to all county libraries by simply contacting:

Renew Your Vehicle Online